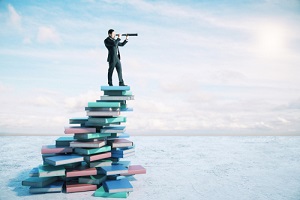 The word 'spiritual' and 'financial planning' may initially seem to mix about as well as oil and water!
But maybe there is more of a connection than we realise?
Habit 7 in 'The 7 habits of highly effective people' is 'Sharpening the saw'. Stephen Covey uses this metaphor in relation to taking care of yourself so that you can perform at your best far more of the time.
The four dimensions of renewal are:
S – spiritual
P – physical
E – emotional
M – mental
Our spiritual nature is by far the most neglected dimension by most people. Why is this?
Ever since the Age of Enlightenment humans have focused upon science, reason, and logic. We have made the intellectual mind our God and mainstream science often 'scoffs' at the idea of the formless nature of life.
My response to this is, "How is that working out for us?"
We seem to have thrown out the baby with the bath water.
The case in point being that living standards have never been higher, yet mental health and well-being have never been lower.
The key to lasting happiness, contentment and personal evolution is not in acquiring more 'stuff', it is an ever-deepening realisation of your true nature and connection to your deepest held values.
Here are 10 books to nourish your spirit.
1. Dying to be me by Anita Moorjani
Anita Moorjani came back from the brink of death from cancer after a powerful realisation. This is a personal memoir of her life and the extraordinary shift in her consciousness following her experience.
2. The book of secrets by Deepak Chopra
Deepak Chopra is a prolific writer whose books sell in the millions. He brings together science and spirituality in a highly engaging way. This is my favourite book of his and it explores the most fundamental questions, such as 'Who am I?' and 'Why am I here?'
3. The power of now by Eckhart Tolle
Eckhart Tolle deeply explores the only thing we have – this moment. Learning to be present is the only path to inner peace.
4. The enlightened gardener by Sydney Banks
Sydney Banks had an insight of such magnitude that almost fifty years later millions of people are continuing to benefit from what he realised. His work has been the foundation of my work for ten plus years. This book is a story that points you towards the source of all the answers you seek.
5. Tao Te Ching by Stephen Mitchell
The Tao (pronounced Dow) is an ancient Chinese text that means 'the way'. Stephen Mitchell's translation is a best-selling translation of timeless wisdom.
6. Loving what is by Byron Katie
Byron Katie was living a life of pain and suffering until she experienced a dramatic shift in her consciousness. She teaches you how to immediately stop your suffering and instead experience joy and inner peace.
7. Conversations with god by Neale Donald Walsch
Walsch, at a low point in his life, wrote a letter to God and when finished he decided to carry on writing. The result is this book, a wonderful exploration of Truth.
8. Way of the peaceful warrior by Dan Millman
A friend suggested this novel to me over twenty years ago and it remains a favourite. Dan Millman, feeling as though something was missing from his life, meets an old man and finds himself forced to explore his philosophy of life. It is an uplifting tale of self-discovery.
9. The untethered soul by Michael a. singer
Michael Singer has led a truly extraordinary life (documented in his book 'The Surrender Experiment') and this book will change how you relate to life and how you live it. I have read it twice in the past few months and am now working my way through the guided journal.
10. Proof of heaven by Dr Eben Alexander
Eben Alexander is a neurosurgeon who was a scientist through and through. That was until he got ill, fell into a coma, and had massive brain damage. Against huge odds he survived and came back to share an astonishing story.
P.S. Choose one of these books to start with and commit to 10 or 15 minutes a day. Anyone can find this time and it will pay you back ten-fold.