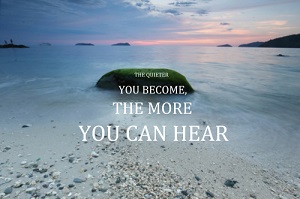 Effective, heartfelt communication is a natural consequence of a free and present state of mind.
This is why trying to use techniques so often diminishes the potential rather than improving it.
Questions are a great example.
Trying to memorise a question or a series of questions will more than likely work against you rather than for you.
So, what can you do?
This week's article explores a different approach.
Simple questions formula
One of the reasons I came away from teaching questioning techniques to my clients was because I saw that it could result in them going up into their heads.
What was happening was that instead of being present and fully responsive to their clients they were thinking too much about the questions they wanted to ask…
*What should I ask?
*When should I ask it?
*What is the next question?
*Is it the right question?
And so on…
The problem with speaking from memory (like trying to remember specific questions) is that there is little feeling behind the words and, therefore, the process is not engaging for a client. When we are communicating from our heads it puts up a barrier to human connection.
It is far better to have a sense of the direction you want to go in, but without trying to remember specific questions.
In that way you can have an extremely high quality of attention on your client and allow your questions to be intuitive rather than memorised.
To be effective at exploring soft facts, it can only be done in an intuitive, attentive way.
What could this look like?
A simple question formula that works well is this:
*Where are you now?
*Where are you going?
*What is the goal behind the goal?
*What could stop you?
Imagine you meet with a potential new client or even an existing one and your aim is to understand them and have them understand themselves and what truly matters to them.
You want to explore what your client wants (where are you going?).
You want to discover out where they are starting out from (where are you now?).
The goal behind the goal is important because these are the emotional values behind a goal or destination. Ultimately, this is always what someone wants.
Finding out what someone perceives as the obstacles to their goal (what could stop you?) is also important because it provides the opportunity to anticipate and deal with them before they become a problem.
Make it simple
The intellectual mind loves to make things more complex. It likes to chunk things down into more and more parts. But complexity does not make things easier.
Albert Einstein said, 'Everything should be made as simple as possible, but not simpler.'
Having less on your mind brings communication to life and creates better outcomes.
P.S. What is on your mind when you are with a client? Are you willing to let your thoughts go and allow your intuition to guide you? Once you get used to doing this (and it does not take long) it is unlikely to make sense to approach it in any other way.