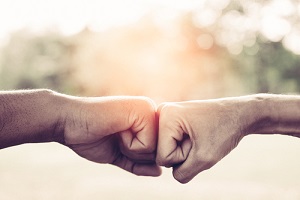 There are three types of financial planning client you can build your practice around.
And because the three types are defined by what the client values, it can make a massive difference to the quality of your business.
But before I discuss the three types of financial planning client, let's talk about the importance of commitment.
It seems to me that commitment is an essential ingredient for success in accomplishing anything worthwhile.
Consequently, I have found that the most rewarding clients to work with are the ones who are committed to their goals, living in accordance with their vales, and to the relationship they have with you.
What leads to a high level of commitment to the relationship with you? It's because the client sees their life is better with you in it.
Therefore, a question to consider is:
Do clients show up as already committed or can they become committed?
'The prosperous coach' by Steve Chandler and Rich Litvin is THE best book I have read on building a coaching practice.
But nearly all the ideas are just as applicable to financial planning and I have been sharing many of them with great results for over a decade. For example, one of the ideas I have adapted is that there are three types of financial planning client:
Clients that pay for financial advice
Clients that pay for your financial advice
Clients that are paying for their dreams
So, what are some of the implications to your business of each type?
Type 1 financial planning clients believe that financial advice is a commodity and an ongoing relationship with a financial adviser is not something they value. Therefore, advice is transactional and they will often be focused on what it costs.
Type 2 financial planning clients do value a relationship with a financial adviser. They want someone they can trust, is reliable and accessible, but the business is transactional.
Type 3 financial planning clients see you as playing an integral part in their dreams becoming a reality.
How does this happen?
One of my financial planner clients shared her approach with me.
The first thing she does is get extremely curious about her clients dreams, goals, and most desired outcomes. She asks lots of questions and listens deeply to get a thorough understanding of her client. She also wants her client to get really clear on what they want.
Should they decide to work together she creates a do-able plan with them, has regular meetings, provides support, and even coaches them. As a result her clients dreams move from a possibility into reality.
What are the clients paying for?
They are paying for their dreams and not just transactional financial advice. Consequently, the level of commitment of the clients to their goals and their relationship with her is extremely high.
Who do you want to work with?
Not all people will be a type 3 client and some may only want transactional advice.
But only you can decide at what type you want to build your practice around and who you are willing to work with.
I found the following questions useful to reflect on:
Who do I do my absolute best work for?
What do I find most rewarding and fulfilling in my work?
What type of client do I want to build my practice around?
Who is more likely to refer me to other like-minded people?
P.S. How balanced is your current client list? Do you have too many transactional clients? Do you want to shift that balance to more type 3 clients? (See 'Turning financial planning clients away – is it good for business?').
Jeremy Askew, founder of Town Close Financial Planning has built a very successful practice on working only with the kind of clients they do their best work for. I interviewed Jeremy and you can download the recording by clicking here.