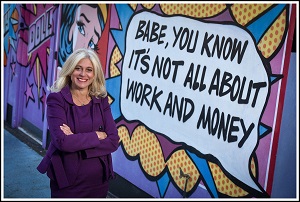 My client Fulva Giust is one of the UK's most successful female financial planners, in business for over thirty years.
She has built a thriving practice serving wealthy families and individuals built upon rock solid foundations of trust, caring, and kindness.
She takes a deep interest in the lives of her clients, what they want to accomplish and their relationship with money.
I wanted to share an interview that Fulva did with Flagstone where she highlights some of the things that have helped her be so successful.
What is your advice for building strong client relationships?
Building trust, credibility, and professionalism. It's all about behaviour – as a financial adviser you can ask yourself, is the information you provide reliable? Do you turn up on time for meetings? Are you present for your meetings or are you always distracted? There are lots of things that make you credible and therefore create the trust and bond you have with your clients.
Do you find a particular type of communication works best?
It has to be down to the client. Having said that, if you're someone that is really tech savvy and you never want to see your clients face-to-face, it's unlikely you will attract clients that want to meet in person.
In your opinion, what is the best way to acquire new and valuable clients?
By doing a really good job with your existing ones. If you consistently make an impact with your current clients, they will become your advocates and go on to refer you.
How do you stand out from the crowd of competitors?
By being authentic, by caring. One of my clients filmed a video and shared his opinion about me which can be seen on my website. What he says is what matters; and what he says is that he matters to me.
I often hear from clients that they don't feel like they are important enough for their advisers, or they feel they don't have enough money to interest their adviser. I make sure that my clients know that they matter to me. That's what makes me stand out.
What are your tips to running a successful practice?
Meet the expectations that you set out. So, if you say you'll do something by a certain date, do it. And not just to your clients but to your team and to everyone you interact with.
Ensure you employ and work with great people. Your administrators, PAs, and team members represent you; they emulate who you are and they should mimic your values. If you think about it, how you want to be perceived will be magnified not just by your own presence, but by the whole practice. Everyone who works for and with me has to care as much as I do.
Create a culture that mirrors your own values and make sure your people are aligned to them and to you.
How do you stay relevant to all client types including different generations?
By staying interested and client focused. If you're truly interested in people, you will remain relevant to them.
But also recognise and be honest when you can't, (because we can't be all things to all people).
One of the best things we can do as advisers is to identify when we aren't attuned to or engaging with a certain client and guide them on to the right person who can.
Don't try and mould them to fit your world and don't be afraid to admit if they don't fit yours. Honesty is paramount to having a successful practice.
What can you take from this?
For me, Fulva shares several key points that seem like common sense yet are not easy to do consistently well. One important example being always doing what you say you are going to do.
So, what have you read that you can immediately apply to your practice that will help you serve your clients better and build a better business?
PS. Did you enjoy this article?
You may also enjoy, 'How do you become a great financial planner… not just good?'
You can download a FREE copy of 'Magical Client Meetings Every Time.' You will discover the 10 essential keys and use the score sheet to immediately determine your next steps. Click here to download.