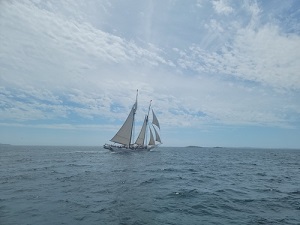 What prompted this article were a number of conversations I have recently had with financial planners who were worried about the current trading environment.
So, how do financial planners prosper in turbulent times when the economy is contracting, clients are tightening their belts, and media is spreading doom and gloom?
One proven way NOT to prosper as a financial planner is to shrink back into yourself and hope for better times.
So, rather than turbulent times being something to fear they are an invitation to see something from a new, more useful perspective and be of service. 
The following 5 truths help financial planners prosper under any external conditions because they point to where the power really is.
1. The truth about fear
An easy trap to fall into is believing there are inherently scary circumstances.
The truth is this:
Fear does not come from our circumstances; we project fear onto our circumstances.
In other words, no situation has the built-in ability to make you feel afraid. Fear is a state of mind, but because it can be such an intense feeling it can certainly seem real. 
This does not mean to say that you will never feel fearful or that it is wrong to feel it.
But understanding how your mind works is incredibly helpful because it takes you out of that passive, victim of circumstance mindset.     
1. Problems are made of thought
In a similar way to when we feel fearful, it is so easy to imagine that we are like a camera, looking at the world and seeing a fixed reality.
And if what we see looks like a problem, we might feel afraid, discouraged, disappointed, angry, or tense.
Yet one the greatest minds ever, Albert Einstein, said:
"We cannot solve our problems with the same level of thinking that created them."
He recognised that something only looks like a problem because of the state of mind we are in. In a different state of mind, it would not even look like a problem and the solution would present itself.
3. This moment matters
A few years ago, a friend gave me a small card that said, 'This moment matters', and I have it stuck on my computer monitor.
Sometimes I get lost in the thought of tomorrow being better than today. But this is low level thinking.
Dr David Hawkins, author of many books including the brilliant, 'Letting go', said:
'It is helpful to understand that if one is not happy with present circumstances, the chances are that happiness will still be elusive when conditions change to one's current desire.' 
This moment matters because it is all we have.
4. You will never win a fight with reality
A few weeks ago, we were on holiday and walking on the cliff tops at Fowey in Cornwall. A man came by and said his son was part of a crew sailing a 150ft schooner from Amsterdam to Fowey and it would soon be coming into view.
The wind that day was pushing hard against the direction of the schooner, and it was fascinating to watch it steadily make its way into the headwind and eventually into the calm waters of the estuary.
Sailing is about learning to work with the conditions as they are, not as you wish them to be.
Similarly, life does not lend itself to hoping that conditions fall into place just the way you want them to be. Even if they do, it will only ever be temporary.
It is far easier to partner with life how it is.
5. Thoughts change, you don't
Notice how your thoughts are changing all the time. They come and go because this is the nature of the mind.
If we identify with our ever-changing thoughts then, of course, life will be like a roller coaster ride. As it is for many people.
Yet there is a part of you, call it your essence, spirit, soul, awareness, or being, that is quiet, still, and unchanging. It has inherent feelings of peace, tranquility, and love.
Michael A. Singer, author of 'The untethered soul' wrote:
'There is nothing more important to true growth than realizing you are not the voice of the mind – you are the ones who hears it.'
You may also enjoy this list of books to nourish your spirit.
Why do these 5 truths matter?
Firstly, they help you to realise that you have everything you need to prosper under any conditions.
Secondly, they help you to help your clients. Many will be worried, so when you are a calming influence in their lives you can help them experience a better quality of life now – even in the most seemingly difficult of conditions. 
P.S. If you enjoyed this article, you can download a FREE copy of 'Magical Client Meetings Every Time.' You will discover the 10 essential keys and use the score sheet to immediately determine your next steps. Click here to download.