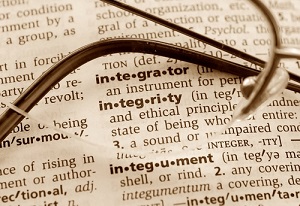 As professional people we value integrity, right?
We like to think of ourselves as being a person of integrity and we want other people to act with integrity towards us.
To me, this seems at the very core of trust.
Yet as a subject that has been front of my mind for a while now, I have realised how often I can be out of integrity. And I also see that this comes with a cost.
So, if integrity is important to you then I invite you to read on.
The ultimate coach
I have just finished my second reading of the book, 'The ultimate coach', written by Amy Hardison and Alan D. Thompson.
The 'Ultimate Coach' is about legendary coach Steve Hardison. His fee for one year of coaching is $200k and you have to go to his house in Arizona. His clients are highly committed people. One, a lady living in London, travelled from London to Arizona and back every two weeks for a year and a half to work with Steve. Serious commitment.
The book, whilst written about Steve's life is really a book about being. As Steve says, 'Who you are being is everything.'
Being your word
The book speaks to many important aspects of life and perhaps none more important than being your word.
How often do we give our word, make a promise, or agree we will do something and then fail to follow through?
What immediately struck me was how often I do this.
I noticed that I was consistent on following through with things I promise my clients. I turn up when I say I will, always on time. And if I say I will send them something I make sure I do it.
Yet in other areas of my life there were times I did not do what I said I would do.
For instance, I was often over-committing on projects. I would have several on the go and was rarely finishing any of them.
Since being your word has become more visible to me, I started noticing how many people make commitments and do not keep them. Particularly in the area of not following up when they said they would.
This is not about making people wrong, look bad, or criticising them. It is about realising more of our our potential.
What if being your word became paramount to you?
I have been exploring being your word with my clients and asking:
What if everyone in your organisation kept their word – how much difference would that make?
Everyone has said exactly the same thing – it would be massive.
Michael C. Jensen, a professor at Harvard Business School, was interviewed about integrity and this was produced as an article titled, 'Integrity: Without it, Nothing works'. He said:
'People tend to view integrity as a virtue that is 'nice to have', but not as something that is directly related to performance. They fail to link the difficulties in their lives or in their organisations to out-of-integrity behaviour. But the increases in performance that are possible by focusing on integrity are huge: I'm not talking about a 10 per cent increase in output or productivity – it's more like 100 to 500 per cent. At my organization (the Social Science Research network (SSRN) after three years of implementing these notions, our CEO Gregg Gordon will tell you that we've seen in excess of 300 per cent increase in output, with essentially no increase in input. And our people are happier.'
Integrity is a muscle
I noticed I could immediately be my word by becoming more conscious of the commitments I make.
I am also reflecting on the question:
When and where am I not being my word?
Whenever we are not our word (and it is impossible to be one hundred percent perfect) then to be in integrity we need to clean up the mess. If we make a promise to someone (e.g. a client, potential client, friend, colleague, partner, or child) and cannot fulfil it, then we tell them this is the case in advance and ask what we need to do to put things right with them.
With our own internal commitments to ourselves we can adjust our behaviour so that we create the conditions where we are able to keep our word. For instance, I am working on only one project at a time so I can complete it and only then move onto the next one.
PS. A proven way to increase integrity and create more impactful relationships is by making agreements. Click here to read, 'The power of creating client agreements'.