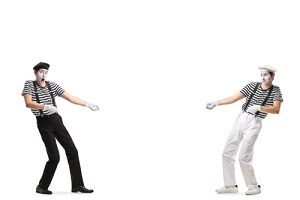 Culturally, we tend to buy into the idea that you need self belief in order to succeed.
But what if you don't have self belief? Should this stop you going for what you want in life?
Some years ago I was working with my coach at the time and I said that in order to succeed I needed to believe in myself.
He simply said, "Why?", and I remember trying to justify what I said.
Up to then I had assumed it must be true. After all, every day in the media you can read or hear about someone who has achieved something amazing and they say that self belief was the key to their success.
The truth about self belief
With the help of my coach I came to realise something new about self belief and it has been so incredibly helpful.
We all know that our moods fluctuate. We can be in a low mood, high mood, or anything in between. You cannot control your thinking to any significant degree, but you can understand how it works.
Just as our physical energy ebbs and flows, so does our mental energy.
In a low mood you might feel discouraged, deflated, and full of self doubt. Psychologist George Pransky wrote in his book,'The Relationship Handbook',:
"When we are in a low mood we get faulty information from the brain. If we trust it, our lives will take a turn for the worse." (See, 'What happens when you're afraid of making mistakes').
Yet in a high mood, or clear mind, you live from potential, possibility, and free of imagined limitations.
So, here is the thing…
If you have a goal or outcome that is important to you and you want to go for it, then what does self-belief and whether you have it or not have to do with it?
Nothing. Unless you think it does.
Is self-belief necessary to succeed?
After my conversation with my coach I began to see exceptions to the perceived wisdom all over the place.
One of my favourite examples was when Liverpool won the UEFA Champions League against A.C. Milan in 2005. What a game that was!
At half-time Liverpool were 3 nil down. Many fans walked out of the stadium at half-time in disgust, but to their eternal regret.
Because in the second half, in a dramatic 6 minute spell, Liverpool scored 3 goals and levelled the match. It eventually went to penalties and Liverpool won the cup.
The match became known as 'The miracle of Istanbul'.
It is well documented the state of mind that the team were in at half-time. Steven Gerrard, the captain and man of the match, said that in the dressing room at half time they had no belief at all. The defender Jamie Carragher said the team were completely deflated.
So, they had no self belief and were in a low mood. Yet they still won the biggest prize in club football.
Feelings are not information about your life circumstances
The mistake I had been making was thinking that both self doubt and self belief were significant factors in going for what I want (or not!).
Nowadays, if I feel self doubt or lack belief, I know it is simply information about where my thinking is at and has no bearing on what I do at all.
This has been like taking the handbrake off in my life and enabled me to build a business I truly love, working with wonderful clients, and living my life on my terms.
I also came to see something new about the people who said self belief was the key to their success.
What is far closer to the truth is that they have learned to ignore self doubt. They do not trust their thinking when in a low mood and do not make a big deal out of how they feel.
Consequently, just as Liverpool did on that day, they stay in the game.
This is completely different and far more helpful than the misunderstanding that you need self belief in order to succeed.
If you are in the business of helping your clients to identify and plan for their goals, then this understanding will help you to help your clients. If they think they need self-belief or experience a 'wobble' because of self doubt, you can help them to transcend it and stay on track.
And how valuable is that?
P.S. If you didn't need self belief to succeed and you saw that self doubt was not a reason to stop, what would you go for in your life?