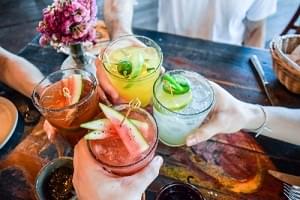 There is no question that many, if not most, businesses have been severely affected by the lock-down.
For instance, if you are a retail outfit then you have had no choice but to keep your doors shut. A similar situation with restaurants and bars. Advisory firms have been unable to operate as normal.
It has also been fascinating to observe the differences in how people have responded during this period.
Whilst it is perfectly natural for our thinking to go south in unexpected circumstances, some people have continued to feel discouraged, downhearted and may have even lost hope.
Others, despite the threat of losing a great deal, have reached deeper inside themselves, found inspiration and are coming up with new, creative ideas.
So, what is the difference?
Fundamentally, it is state of mind. Our understanding of state of mind and what creates it has never been more important.
One of my clients owns a couple of bars. These have been closed for weeks and there is the very real possibility that these businesses might be lost for good.
The staff have felt discouraged and despite his invitation to come up with ideas, no one had.
This is what happens when we think the world works 'outside-in'.
When we believe that the circumstances of our lives are directly responsible for our sense of well-being, equilibrium, and happiness then we are always going to be vulnerable to changes in the outside world.
In a state of discouragement, we can feel demotivated and stop trying because we think there is nothing to play for.
But how true is this?
Most people think that to feel better you need to change your circumstances.
This is not only false, it also keeps you stuck.
The truth is that it is the other way around – you change your psychology to change your circumstances.
And this is far, far easier than it may at first appear to be.
My client understands that his experience of life comes via his thinking, not directly from his situation. The nature of thought is that we can always get new, creative, and generative thinking – whatever the circumstances.
As soon as we catch on to the fact that thought is transient and by allowing our mind to settle, we are wide open to new possibilities.
My client got together with his sales director from one of his other businesses (virtually, of course!) and they decided to brainstorm some ideas.
In the space of a five hour call, they came up with an idea, worked on it and brought it into reality.
Instead of people coming out to his bar to get their cocktails they would deliver the ability to make them to your door. You can see the website they created here.
What happened?
They launched it and they were surprised by the immediate response. They are making enough money that could ensure the survival of the business. The team are engaged because they now have hope.
What can you do for your clients?
You may not be able to get out and see your clients or have them come to see you.
But the possibilities of how you can serve them are wide open.
Their need right now may simply be to talk to someone. To have the reassuring attention of someone who they trust and who cares about them.
On the other hand you also have the potential to come up with new, fresh and innovative ideas too.
What is guaranteed is that if we get in our heads and allow low level thinking to get the better of us, we will get stuck.
P.S. Joe Bailey is a favourite author and practitioner of mine and he talks wonderfully about resilience in this video.