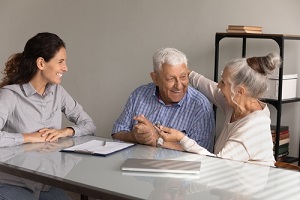 Do you want to have your financial planning meetings be high-impact, high-engagement experiences for both your clients and you?
Of course! We all want this, don't we?
There are also significant commercial reasons to ensure that client meetings are of the highest quality.
For instance:
*By getting to know your clients better and forging stronger relationships it leads to more business
*Clients who have a great experience of you tend to give you more referrals
*Happy, highly satisfied clients stick around for longer
But let's also acknowledge that finances can be a heavy subject. Many advisers can inadvertently make their client meetings really hard work for their clients. For example, meetings are too heavy with detail, or there is too much talk about products, markets, and technical matters.
What defines the quality of a financial planning meeting?
If you reflect upon this question, what would you say?
The location? The content? The outcome? Fulfilling the agenda? The feelings people experience? The rapport? Winning the business? Some or all of these?
If you had asked me this question much earlier in my career, I would probably have said the outcome of a meeting was the biggest factor in its quality.
Yet I now see things differently.
Of course, we want the purpose of a meeting to be fulfilled, but when we think about the quality of a meeting what do we tend to reference?
We think of the tone or the feeling in the meeting.
A successful meeting is not just about what gets done but the spirit in which the meeting is held. The state of mind people are in massively influences the flow and content of a conversation.
Financial planning meeting levels
The graphic below shows meeting levels and the direct correlation between state of mind and meeting quality.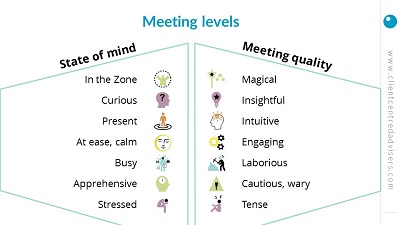 Effective financial planning meeting management
So, if you look at financial planners and advisers that run high-impact, high-engagement meetings, what are they doing?
I know it can so easily seem like the process, techniques, or behaviours are the key.
But there is something else far more important that creates the results you are looking for.
Imagine that processes, techniques, and behaviours are like apps. For an app to run there needs to be an operating system. You don't see this, but it is essential and operates behind the scenes.
Well, it's exactly the same for our human interactions.
An understanding the operating system behind the human mind is a game-changer, and here is why…
Operating systems are transformative. Once you have them, in a deeply embodied way, then processes, techniques, and behaviours are a natural by-product and intuitively come to you all the time.
Give a man a fish and he will eat for a day
Everyone knows the proverb, 'Give a man a fish, and you feed him for a day. Teach a man to fish, and you feed him for a lifetime.'
The reason I stopped focusing on processes, techniques, and behaviours is because I realised this is like giving someone a fish. Operating systems, on the other hand, are like teaching a man to fish.
In Robert C. Kausen's book, 'We've got to start meeting' like this he says:
"The deeper you understand the role of Thought as the architect of human experience, the easier it is to guide the interactions of people in meetings to higher levels of effectiveness. Keep your eye on thought and state of mind, not behaviour."
In other words, if you want to consistently create high-impact, high engagement financial planning meetings, your state of being is far more significant than what you are doing.
P.S. If you haven't already, you can download my free report, 'Magical Client Meetings Every time' by clicking here.