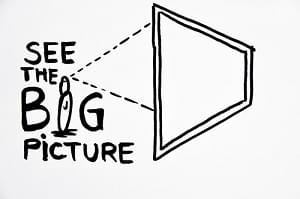 The key difference between a transactional financial adviser a 'Trusted adviser' is how the adviser is positioned in the mind of the client.
As a 'Trusted Adviser' your client naturally turns to you for valued input, advice, opinion, help with key decisions, and possibly coaching.
A good description shared with me by a financial planner is that a 'Trusted Adviser' is a member of a client's 'inner circle'.
An important trait of a 'Trusted Adviser'
I came across some research that is both eye-opening and important if you are interested in building 'Trusted Adviser' relationships.
Matthew Dixon and Brent Adamson conducted a study of B2B salesperson productivity with more than 6000 individual salespeople across a broad range of industries. The results were examined and written about in a series of blog posts in the Harvard Business Review.
What they found was that most B2B sales professionals fell into one of five behavioural types:
1. Relationship builders… those who focus on building strong relationships.
2. Hard workers… those who show up early, stay late and go the extra mile.
3. Lone wolves… self-confident rule breakers who do things their way.
4. Reactive problem solvers… reliable, detail oriented, address issues quickly.
5. Challengers… deeply understand clients and their businesses, assertive, not afraid to challenge.
Which category do you think has the most star performers?
Since discovering this research, I have asked many financial advisers which category they think has the most star performers. Only last week during a session of my 'Client engagement masterclass' I asked the participants what they thought. The answer I got, which is by far the most common one people give, was:
The relationship builders.
Yet the research found that the relationship builder's category has the least star performers with only 7% in this category. The highest percentage of star performers is the challengers, who represent 40% of this category.
What is your role in your clients life?
When one of the main purposes of what you do is helping your clients clarify, plan for, and achieve their goals it requires that you thoroughly know your client. Your depth of understanding of your client is key to being seen as a trusted adviser.
It is also true that some, if not all, your clients will have behaviours, habits, beliefs, ideas, or views that, if gone unchallenged, could easily sabotage their success.
For example, many people are poor with money. They may have a history of making bad decisions, or procrastinating, or spending more than they earn.
Some people take advice from the wrong people. Like their friend down at the pub who is an 'expert' on investing (but who really knows little). I once invested in a mining stock on the advice of a friend who apparently was 'in the know'. And you can guess what happened to that money. I never saw it again!
The power of silence in a conversation
One of the reasons that Challengers have the most star performers is that they are not people pleasers. The fact that they are willing to challenge their clients clearly demonstrates this.
While relationships are, of course, important, if you are unwilling to risk creating tension in the relationship it can stop you asking searching questions. At times it can be important to allow the client to feel uncomfortable by confronting them with the potential consequences of their thinking or behaviour.
One example is the adviser becoming comfortable with silence in a conversation.
By being willing to asking a challenging question and allowing the client to sit with it, this can often lead to them having a genuine breakthrough, epiphany, or insight. The short discomfort of being robustly challenged far outweighs the potential significant discomfort of making a big mistake later on.
It takes courage to challenge your clients
If you are not used to challenging your clients or realise you can be more robust in this area it can feel like a step into the unknown. Yet without taking the risk it is a potential disservice to the client and a lost opportunity.
In the book, 'The Trusted Advisor', by Maister, Green and Galford, they say:
"In our experience, advisors vastly overrate the risk of taking an action, and underrate the risk of not taking an action."
P.S. A core skill of a 'Trusted Adviser' is listening. Click here to read '5 steps financial planners can take to becoming a better listener'