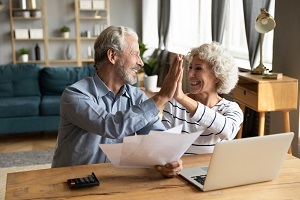 Working with highly motivated clients makes your life so much easier and your work far more rewarding.
Do you want financial planning clients that are…
*Highly motivated to work with you?
*Always follow through on the tasks that you need them to do?
*Take the actions necessary to achieve their goals?
Rather than these being qualities that some people have, and others do not, it is far more useful to realise these are things that you, as the financial planner, can facilitate within a client.
Part of the key to highly motivated clients is not about you motivating them, but encouraging self-motivation. You help them to find their own reasons that motivate them into action.
If you can help clients to explore what is important to them, mostly by asking questions and listening carefully to the answers, then this becomes far easier.
Asking the right questions to create self motivated clients
Let me share an experience that had great impact on me.
The late Johnny Carson was a well-known American television host who had his own show, 'The tonight show starring Johnny Carson'.
Going back many years I remember watching one show when one of his guests was 'America's top salesman'. The guy came on and Johnny said, "So, you are America's top salesman. Sell me something then!"
The guy thought for a moment and then said, "Well, what do you want me to sell you?"
Johnny looked around and his eyes fell upon a decorative ash tray on the table. So, he told the guy to sell him that.
The salesman said, "What would you want that for?"
Carson gave a couple of reasons and the guy said, "Why else would you want it?"
Carson had to think but he came up with another reason.
The guy then said, "And what might you expect to pay for such an item?"
Carson thought and said, "Maybe $25".
The salesman said, "It's yours!"
What I thought was fascinating was that he did not try to entice, convince, or persuade Carson of anything. All the guy did was ask questions and listen.
And here is the thing…
You cannot motivate another person; you can only create an environment in which someone becomes a highly motivated client.
Why is this?
Because people are motivated by their own reasons and not our reasons (Thought leader Daniel Pink has some very interesting things to share about motivation – click here to view a short video).
Therefore, as the financial planner, your primary job is to help a client explore and discover what is most important to them.
In my coaching practice when speaking to an existing client or someone completely new I want to know what they want.
So, we spend time exploring this and sometimes I will ask:
Is this THE most important thing we could be working on for you right now?
And if it is not then we explore what is.
Just this week I chose not to work with a business that I had made an enquiry to. Why did I not want to work with them in the end? Because they did not listen to me. Their representative assumed what was important to me and tried to get me to act for his reasons, not mine.
This is the most basic of errors.
The next small step
When it comes to taking action, clients are far more likely to become self motivated by what they see as do-able.
How do you know what is do-able for someone?
Ask questions, listen, and test their level of commitment. If they are reluctant to commit, then make the action smaller or re-establish what they want.
The nature of motivation is that you feel it after taking the action and it builds from there. This is why the next small step is far more important than something bigger that looks like a good idea but ends up fizzling out.
P.S. You cannot ever want something for your client more than they want it themselves. Being unattached to the outcome is what makes you highly effective at listening and asking questions. Why is it important to make your client conversations inherently valuable? Click here to find out.